This entry is a guest post by David Klein, Director of Orange Line. Follow him on Twitter @davidaklein.
It's no secret that social media based contests are a sure fire way to gain brand exposure, social followers and links. There are many ways to go about executing your contest so I thought I might go over some ideas and tips that have worked wonders for clients in the past. I'll be getting into everything from which social platforms work the best, tools to help you out and how to score links all over the place during the process.

I'm pretty excited to be writing about this topic mainly for one reason. Building a strong social follower base is key to a brand's survival. Why? Well, it scares me to think how many businesses rely mostly on Google's organic traffic for business and just how much a strong social following is contributing to organic rankings. The organic search game is a volatile one so take advantage of your contest and start growing your follower base. The potential for your Facebook fans getting your brand message to their friends is great! Since Google+ posts are now being indexed in the SERPs, there's a whole other angle to start thinking about.
Besides those obvious benefits, there is another big one that usually makes the contest pay for itself. What am I talking about? Why user generated contest of course! If you choose to go down the path of running a video or photo contest, then you're in luck. This is great fodder for your brands blog, Flickr, Youtube, Pinterest, Vimeo and all other social networks you're on.
Excellent Past Examples
I thought I'd put it out there what I thought were amazing examples of social media contests from beginning to end. The brands mentioned are in no way affiliated with me, they just got my attention and inspired me in my contest efforts. We'll take a look at a couple big brands and a smaller one to put things in perspective.
Burger King's Whopper Sacrifice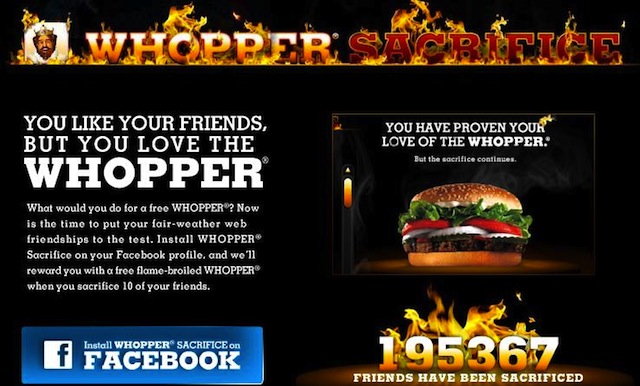 Part Facebook contest, part viral marketing stunt, Burger King hit it off big with their "Whopper Sacrifice", which called on people to de-friend 10 people on their list. As you can see from the graphic above, there were nearly 200,000 people with one less friend. Everyone who was let go as a friend was then notified of the contest and this quickly got the attention of Facebook and its users. They quickly deemed that the contest violated their TOS and it was shut down. Needless to say, the failed stunt was a huge success not only because of the 20,000 people who axed friends to eat a whopper, but also because of the viral marketing that ensued.
Coca Cola's Recycle King
This was an awesome campaign for building brand awareness and establishing themselves as a giant corporation that cares about the state of the planet. They made an app powered by Facebook Places to showcase recycling locations throughout Israel in an attempt to encourage bottle returns. The end result was a huge amount of check-ins as well as UGC by the truck-load, which was an added bonus. You can see now how many people wrote about this campaign (including links) and shared their videos all over the place.
Grand Velas Wedding Contest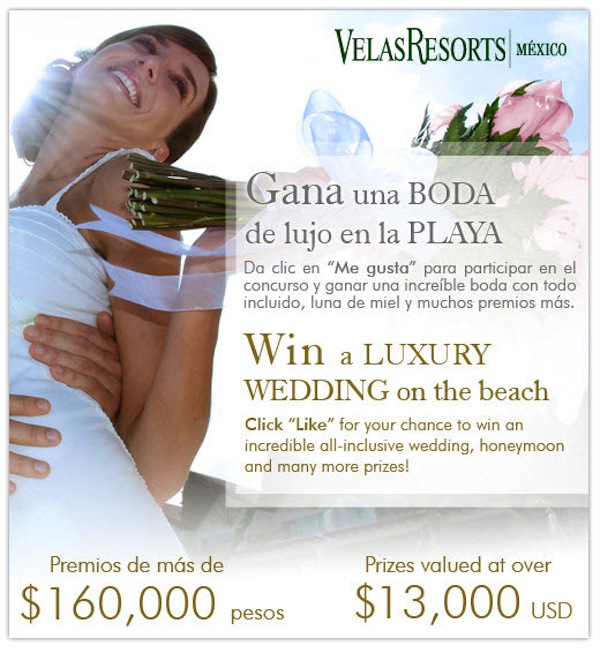 Here's a great example of a smaller brand making some headway in the social contest game. The Grand Velas offered up a dream wedding at one of their resorts and, in return, they turned some heads. With a package worth over $13,000 USD, you know the followers would come in droves. Thanks to a case study by Milestone Internet, we can see some juicy details about how the whole thing turned out for Velas Resorts.
6,733 new Facebook "Likes" (203 new likes on the very first day of the contest)
1,649 posts/feedback to various status updates with contest updates
697 new Twitter followers (updates made on 4 property Twitter profiles during contest)
2,687 visits & 4,404 page views to the wedding site blog
3,762 visits & 12,401 page views to the wedding site itself
Not too shabby! Pretty much all the Facebook and Twitter accounts for their properties are doing quite well and they've rocked out a few more contests in 2011. There are thousands of resorts to have a wedding at but Velas is doing an amazing job keeping up the interest and spreading their brand throughout the wedding community.
Picking The Right Contest
Those with a smaller social following will want to choose their prize wisely. If the goal is to get more followers and drive brand awareness, you'll have to bring the goods. I highly recommend sticking to something related to your niche to ensure that you attract followers that might one day convert into customers. I've seen a lot of brands run with a free iPad, which is fine if you're just trying to make numbers, you'll just get everyone and their mother flocking to the contest and very few of these people will ever actually give you money.
Another factor to keep in mind is the user interaction, which can make or break a contest. A video or photo contest is going to result in tons of awesome content you can re-use on your blog, Facebook photo galleries, Flickr, Youtube and all the places that take it. This is content you'd not normally get a chance to acquire as it's user generated, so make the most of it.
I'm personally a big fan of combining social platforms to get the most bang for my clients' buck. Facebook is, of course, where everyone is at these days and it certainly cannot be ignored. Once you have those fans onboard, you can continue gently bombarding them with branding efforts for as long as they're following. Youtube is another winner because you have the ability to procure a ton of awesome content and get already established accounts showering you with love. Video content also tends to be shared a lot more and keeps users engaged for longer. I highly recommend checking out Google's guidelines for running a contest on Youtube.

Applications to Run Your Contest
I'll be sticking mainly to Facebook contests for this post but you can run them on Twitter, Youtube or whatever social platform your user base connects with you most openly. Facebook has certain rules about running contests on their platform, so make sure you read over these thoroughly. Luckily there are 3rd party apps that make the process a whole lot easier and let you stay within the guidelines. I'll be going over a few of the best options but if you dig around I'm sure you can find others.
Staying within the rules of the platform you're running the contest on is a must, as you don't want to risk your business' profile. More importantly, these apps make the whole contest setup and implementation a whole lot easier. There are also better ways to spend your time so let's take a look at how these apps can bring your contest up to speed.
Votigo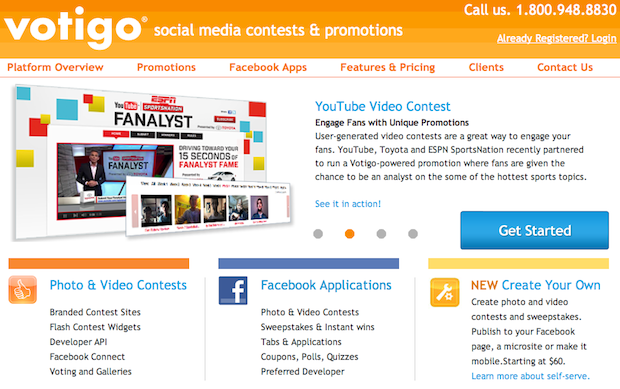 I've had some serious time put in with Votigo and the whole package is pretty impressive with an emphasis on easy. Their platform caters to companies of all sizes and contest packages start as low as $60 per week, which is very doable for just about any business. They have your bases covered when it comes to running contests on Facebook, Youtube, Twitter, Mobile and even contest micro sites.
Votigo covers just about every other angle of your contest, which also makes it my top choice. The reporting, administration and analytics aspect is quite thorough and is perfect for those of us who want to know every little detail. If you're low on manpower or time to run your contest, then you can count on them to handle that in addition to some legal aspects.
Strutta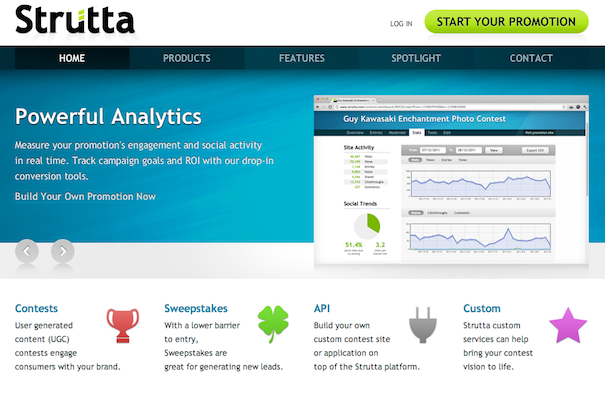 This Canadian social contest startup has a really powerful package that I've had the pleasure of using with a few clients. Their packages focus around Facebook and Micro-site contests with a few custom options, including their really powerful API. Prices for their contest packages start at $199 + $99/month so it's really a good deal for what you're getting. I've used their sweepstakes package on Facebook and it performs really well, is extremely easy to setup and get going and it looks great to boot. The only downside is that you get more bang for your buck going with something like Votigo.
Wildfire Apps
Anyone who's been marketing on Facebook should be well aware of the app suite from Wildfire. Their promotion builder is really a powerhouse of a marketing platform that does contests, but there's a lot more to it that the competition. The contest promotion portion of the app allows your to run sweepstakes and contests as well offer coupons, group deals and a plethora of other marketing tasks. I'm also a huge fan of their pricing structure, as it allows for just about everyone to run a contest.
Prep & Launch Time
The contest promotion starts with you and there's definitely plenty to be done! Before officially launching and promoting the contest externally, ask what your brand can do to spread the word. Obviously the platform you're launching on will be a great start, but make sure to have the following prepped and ready to go at the click of a button:
Blog post with all the juicy details about the contest including links, photos and perhaps even a video from someone at your company.
Have a newsletter? This can be a huge initial push that could make or break your contest.
Make a new landing page for Facebook, twitter, youtube, etc. to push the contest.
If you have a podcast, make sure to get a mention out during each episode.
Even if you're contest is a video based one, make sure your Youtube viewers know about it.
I recommend scheduling up Tweets promoting it to your followers twice a day while the contest is running.
Get your employees to think about how they can spread the word within their social circles and prep a game plan.
Have any contacts that might require a phone call to see if they'll help spread the word?
These steps can really give an incredible initial push so that your closest followers are in the know first and you don't leave out any option. I also like to have some eye-catching graphics done up to drive website visitors over to the sign up page. Our last contest drove nearly 2700 contest signups from the promotional graphics on the site!
Inbound Marketing Strategies
This is where the icing on the cake takes place when it comes to all the benefits of running a contest. While the main goal is always to build brand awareness and get new social followers, I can't help but think link a link builder and there are a lot of link opportunities just waiting out there. These are the kind of links that will add a lot of diversity to your profile and you don't need to worry about getting a certain anchor text or not. Just utilize these tactics to build links that look and feel natural.
Some of the inbound linking methods described below are not even close blown out to maximum capacity so I'll leave it up to you to sniff out the multitude of other opportunities. Your best weapon is the contest prize and it will make life easier if it's something kick-ass. We recently had a client do a Facebook contest with a prize worth a substantial amount from their showroom. It created such a sensation within their niche that a couple dozen blogs covered it, just about every related forum had a thread about it and it was a smash hit at generating social chatter.
Contest Sites
My first go-to resource for promoting a contest is, of course, sites that exist solely to let everyone else know about the promotion. There are plenty of these sites and a number of them provide you with a lot of entries, but you'll also get a link and promotion from some of their Facebook and Twitter accounts. Like I said above, I'm only listing a few here and I'll leave it up to you to find the rest.
A quick Google search will bring you many more sites like these but most of them will look like they're still stuck in the 90's. The results obviously vary, but it doesn't take long to submit to a few dozen sites like this and it usually pays off. You'll find that some require a fee or reciprocal link which is fine, just use your judgement. I usually link back to the sites within my client's blog post for their contest with a "featured on" section of the post.
Press Releases
This one is a no brainer even though most people just submit one press release to, say, PR Web or PR Newswire and call it a day. If you have a larger budget, I highly recommend submitting a unique version of your press release to a few of the other larger wire services for that extra push. The client that pushed the expensive prize managed to get journalists talking on various authority blogs from all over the news spectrum. We managed to track over 4 dozen links just from this alone and rankings were on the up and up shortly thereafter.
PPC
I know you're thinking, "OK, well how is PPC going to build me links?" Fair question! I usually recommend putting aside a small to medium budget for media buys even though we're spending all sorts of money so far. As the old saying goes, you have to spend money to make money and it couldn't be more true in this situation. As far as PPC/Media buys go, I usually do the following:
Facebook – hit this pretty hard because you can really break down your target market and attract some perfect contestants. It works great if your contest is based on Facebook as well because that person doesn't leave the site once they've clicked on your ad.
Adwords Content Network – We've routinely bought ads on related forums and have had some serious success in bringing in new customers. The key here is to pick an active forum in your vertical and create one eye catching banner or the right ad copy. Be prepared to spend some money here and you've always got to be prepared to lose some too. The most important part is that you learn what works for your niche and what doesn't.
Blogger Outreach
The biggest and brightest blogs in your vertical are always going to be an amazing resource for getting in touch with the community. While outreach usually involves some form of link begging via email or Twitter, it more than often requires some form of payment. While buying links is against Google TOS, it's still a thriving practice among most firms. Keep in mind that this is a risk you'll have to take and always discuss it with your company. Most forms of building links are against Google's TOS anyway, so just be smart about it.
Lately, I'd say that Twitter is almost a better alternative to getting in with a blog in your niche. Why? Well, mainly because you can build a relationship first by following and reTweeting their posts for a week or two in advance. This should get you on their radar and make the approach all the more easy as you'll have something to talk about.
Coupon/Deal Forums
There are hundreds of forums pertaining to this topic and nearly all of them have a section for contents/sweepstakes. Companies who sell products should be active on these forums even before they have a contest running as they're a great place to market your deals when they do come about. Keep in mind most of these sites don't like direct submission from companies so build up a normal user profile or find a service that does submissions like this. While I'm getting a little into grey areas of marketing, let's keep in mind the mantra of "risk vs reward".
Social Media Marketing
There are literally endless amounts of dollars you can spend on getting some social mentions for your contest. I usually like to have a budget of $300-500 for this, although you can do some serious damage with just $100 if you're smart. The goal here is to get a good amount of social buzz drummed up so that more and more Tweets and Facebook shares get spread across the timeline land!
Fiverr.com – You can get a load of Facebook page shares and Tweets from people here for just $5 bucks, of course. I usually spend some money here from people with related followers and the results are all over the place. The one thing that's for sure is that it doesn't cost you much so you might as well throw $25 dollars into it and see what happens.
Sponsoredtweets.com – This is where you can really get some traction for your contest and if you have a big budget, you can get a big celebrity! I'll admit we rarely get to make use of the service, but when we did, the results were phenomenal! The Twitter accounts you'll find on Fiverr are usually built up for bulk and the followers are not really that engaged. We had a cooking related contest a while ago, got a few celebrity chefs to push it and the outcome blew all other social promotions away.
Facebook Pages – If you use the search function on Facebook you can find a lot of pages and groups related to your niche. These are great places to share your contest link but I'd be wary about being too spammy so use your judgement. There are also a few place like Facebook.com/SocialMediaContests & Facebook.com/entertowincontests that are for nothing but posting your sweepstakes. You can also buy posts on pages through Fiverr, and again, I'll say you'll see mixed results there.
User Engagement
One really important aspect is to keep the hype going while the contest is running. I see a lot of contests start and then end without a peep during the whole time span – this is a huge mistake. Make sure you're replying to blog comments, Facebook posts and Tweets about the contest. I'd recommend encouraging users to share the contest with their friends so it shows up in other people's news feeds more often than not.
If the contest prize is something you can hold, make sure to take pictures and videos throughout which will encourage users sharing and commenting. We've even thrown in a second mini prize to go with the main one because enough people shared or reTweeted a certain blog post about the contest. The last time we experimented with this we got over 1200 FB shares and a few hundred tweets about it! This drove a whole bunch of new contestants and is forever in our trick bag.
Wrapping It All Up
Your last big user engagement comes in the last couple of days before the contest ends. It's a great opportunity to hype things up and get people chatting. I also like to prepare a newsletter blast to announce the contest is coming to an end in a few days, and then once more to announce the winner. On that note, I'd also make a post to your new fans about signing up for your newsletter to get wind of your next contest which will be "coming out soon". If you had an awesome prize/giveaway, then your chances for sign ups will be huge.
If your contest required user generated content in the form of a video or photo, then make sure you make full use of that. We've done all sorts of things like blog posts containing the top 5 strangest submissions, photo gallery posts and other means of blogging and content submission to the client's Facebook page. If your contest was a hit, you more than likely have more content than you know what to do with.
That about does it. I think I've rambled on long enough and hopefully I've got you pumped to run your own contest soon. The success of your second and third contests will be out of this world if you do all of the above correctly and learn from the mistakes and things that didn't work the first time. By the time you're running that third contest you should have a hefty amount of social followers, and that will push your results to new levels each time.
Author Bio: By David Klein, Director of Orange Line – online marketing specialists based in Sydney, Australia. Visit us to inquire about our winning social media marketing services.